Regd. Office & Factory : W-369, MIDC, Rabale, Post Ghansoli, Navi Mumbai - 400701
Tel.: (022) 27607758 l 27607759 * Fax : (022) 27696744 * Website : www.shikovi.com * Email : enquiry@shikovi.com

Welcome to Family of " Shikovi Heat Gen Technologies Pvt. Ltd. "
Shikovi Heat Gen Technologies is in the field of manufacturing of custom built Industrial Furnaces and Heating Systems for various applications from last three decades. Shikovi always builds customers will. Our customers have trusted & have helped us to grow to what we are today. To create awareness about the new development among the existing customers and others, Shikovi have started "News letter section" on our interactive web site. We hope this section will update our customers and others about New development / Introduction of products,
Systems which are need of the Industry.
Today in first news letter Shikovi is proud to introduce the new product
"DAQ & control system software" which is based on "Lab view" platform.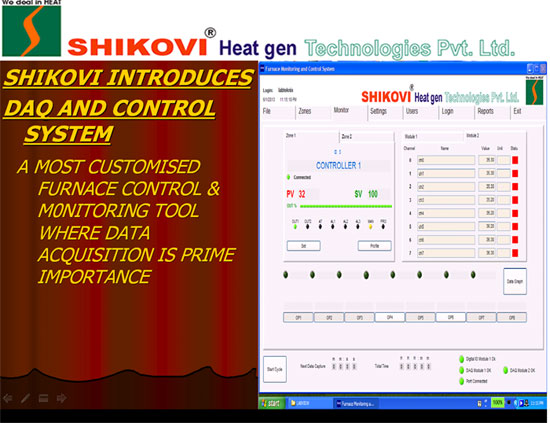 Data acquisition / Control systems, as the name implies, are products of utmost importance in the field of Heat Treatment of materials where precise process control of the heating parameters and data acquisition of the same are must for further processing.

This includes and /or processes used to collect information to document or analyze some phenomenon. In the simplest form, a technician logging the temperature of an oven on a piece of paper is performing data acquisition.
As technology has progressed, this type of process has been simplified and made more accurate, versatile, and reliable through electronic equipment. Equipment ranges from simple recorders to sophisticated computer systems. Data acquisition products serve as a focal point in a system, tying together a wide variety of products, such as sensors that indicate temperature, flow, level, or pressure.
Our DAQ & control system software is most customized furnace control & monitoring tool
where data acquisition is prime importance.
Key Features are:
Built on "Lab View" platform.
Maximum Capacity :
* 2 Analog Modules-
16 thermocouples,
* 2 Digital Modules-
16 DI, 16 DO
* 6 energy meters
It is fully scalable.1 to 6 Zones.
It can log data of energy consumption, temperature,
pressure, vaccume at different points.
It can control upto 6 furnaces or 6 zones in furnace
Graph of parameters like temperature of set value, process value etc can be recorded.
Energy consumption of furnace can be calculated
Profile for particular cycle can be saved
Scalable interlocking of DI-DO
Auto data login
Minimum Capacity:
* 1 Analogue control module-
8 thermocouples,
* 1 DI/Do Control module-
8 DI, 8 DO
* 1 Energy meter:
Support OS Windows7, Windows xp.
Applications : We can use this software in following furnaces:

Software kit includes

Hardening
RS 485 to USB converter
Annealing
Temperature controller
Stress reliving
ICPCON module for digital input outputs
Gas Carburizing
ICPCON module for analog inputs
Bright hardening brazing etc.
Energy mater
Vaccume Furnaces
We hope this product will complete your need of data logging, control, monitoring and acquisition. If you are interested in this product then for trial of this software contact our technical team.
Contact us at : enquiry@shikovi.com, service@shikovi.com , works1@shikovi.com

Happy Festival Season
September marks the beginning of festival season in INDIA & we wish you happy season.
May cheer & blessings continue through the year.

---